Send a fun lovin' gift
A little fun lovin' can go a long way. You give the gift of happiness and love to celebrate a birthday, anniversary, wedding, a new love, or sometimes just to cheer up their day. Life can get a little hectic sometimes, and just doing something a little special will cheer up someone's day.

Zic & Cha Cha offers unique and thoughtfully fun gifts for every occasion and for everyone on your special list - no matter what time of the year it is! From anniversaries to birthdays, our unique designer boxer gifts are sure to impress.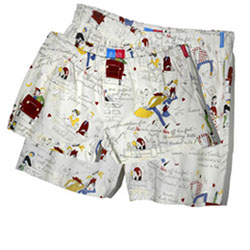 Our Premium Gift Wrap
With our complimentary signature gift wrap, it's easier than ever to send a fun lovin' gift!
Our premium gift wrap includes:

• our signature gold packaging
• premium silky soft ribbon
• his & hers zic and cha cha cards
• free personalized gift message card
• all of our products are manufactured and packaged in the USA

Send a fun lovin' gift to your special someone today!
about our boxers...
Highest Quality Fabrics & Designs

We only use the highest quality fabrics, many of which are exclusive to Zic & Cha Cha. Our designs are unique and one of a kind. We take special care in selecting only the finest fabrics and the finest gift wrap around. Furthermore, our boxers are of exceptional quality and design. The men's boxers are a tailored, yet comfortably roomy and fit. We designed them, so they can be worn as pajama boxers - so yes, the slit is open. We designed the women's boxers with a more fun and flirty approach. These women's boxers are fitted and playfully short. We've also added a sexy little slit on the side for a little extra fun. Each boxer gift will be beautifully packaged so you can be sure that when your recipient opens their gift, they'll remember that special fun loving moment.
Our Monogram

As an added plus, we've teamed up with the best embroiderer in Los Angeles to offer you beautifully monogrammed boxers. She's worked with celebrities from Tom Cruise to Fergie, Le Reve to Wynn Hotels. Yes, she's amazing. So know that with Zic & Cha Cha, your boxers will be monogrammed with only the highest level of quality and the finest detailing. It makes a difference.
100% Happy Guarantee

We proudly offer a 100% Happy Guarantee! We want you to be fully satisfied with every item you purchase at Zic & Cha Cha so much, so that each and every product is backed by our 100% Happy Guarantee. It's pretty simple really, if you're not happy, simply return the merchandise, and we'll give you a full refund. We also guarantee that here you'll find the highest quality merchandise at the best value. If you can find a better boxer at the same price we'll happily refund the difference.
Made in the USA

That's right, all of our boxers are made in the USA. At a time when most apparel production has moved offshore, all our cutting, sewing, photography, marketing, distribution and design, happen locally in sunny Los Angeles, California. We are proud to continue our commitment to providing only
Made in USA boxers locally and globally.

Thank you and have a lovely day,

The Zic & Cha Cha Team