"Now I know why all you Californians love Sushi so much."
Sarah P. - Austin, TX.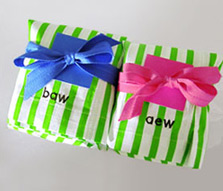 monogrammed boxers
Monogrammed boxers for you & your special someone. A romantic gift idea that's sure to get you something special... in return ;)

Just $10 a boxer and monogram your His & Hers Set for just $20. Personalize your boxers with 3 initials and the color & font of your choice. Every monogram is delicately stitched here in sunny Los Angeles, California. And all our boxers are proudly made in the USA.

**Please allow 2 weeks for delivery for personalized boxers. These items will be shipped separately from other purchases and cannot be returned.

From Ellie, one of our oh so adorable girls at Zic & Cha Cha: No matter where you search on the net, you won't find another monogram of this quality. Its the best monogrammed set you'll find anywhere. Our font has a clean, modern, and luxuriously nice feel to it. Colors are hand picked by our designers & we use only the finest threads, so you can be assured it will look good.


colors



monogram styles
Classic: 3/4" high
Zic & Cha Cha: 3/4" high
weddings>
They said YES!
Celebrate with
the perfect gift
for him & her!
shop now >
free gift packaging

included with all boxers
and his and hers sets!
With our complimentary signature gift packaging, it's easier than ever to send a fun lovin' gift!
see more >
100% Secure Shopping Cart